11 functional areas you can find at eikko 🎯
Are you looking for a new job opportunity? 🔍 eikko is reinventing the job hunting game by matching you with the right roles and companies where your skills, goals and experience perfectly fit. Discover what jobs we can offer you.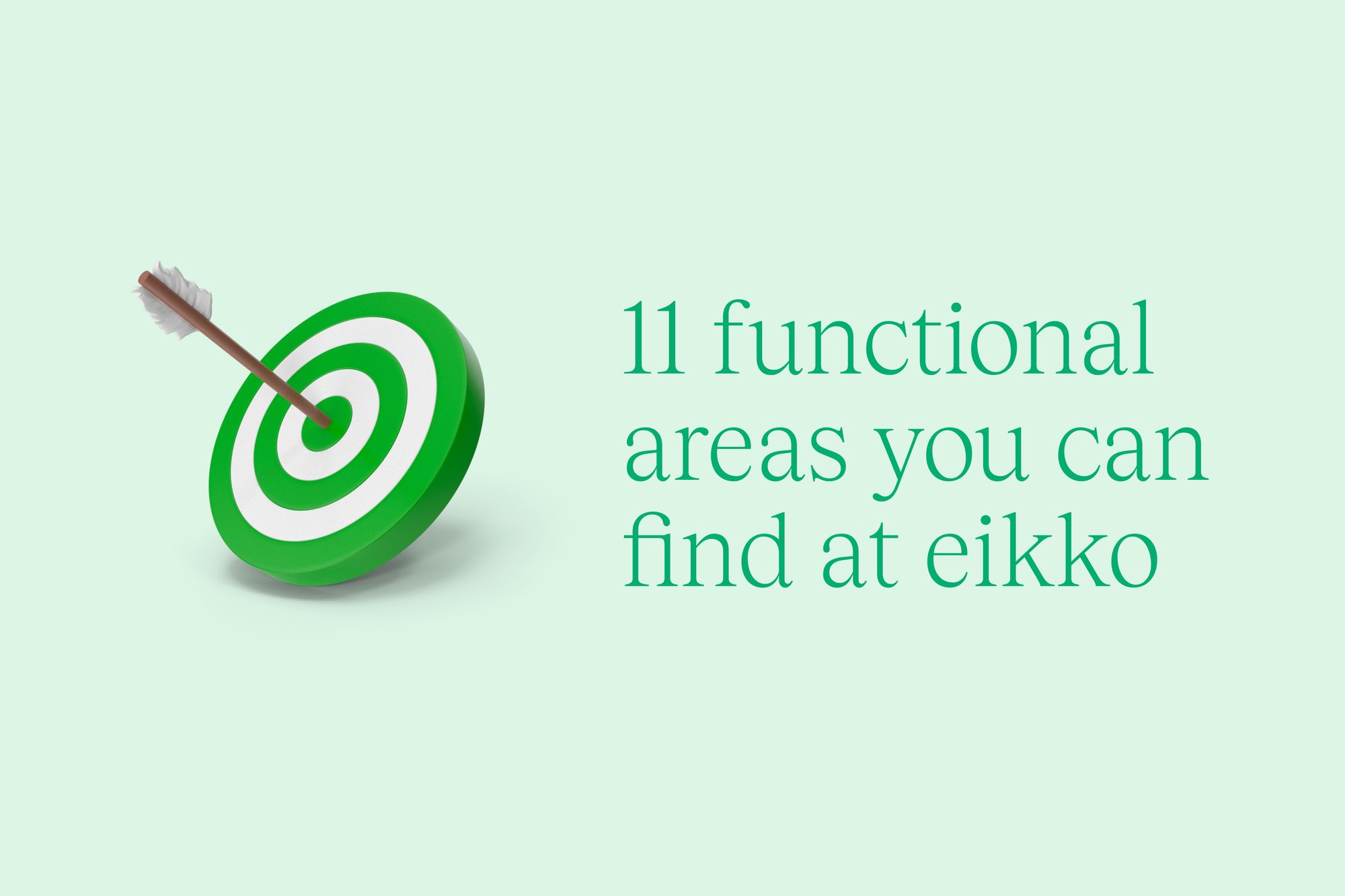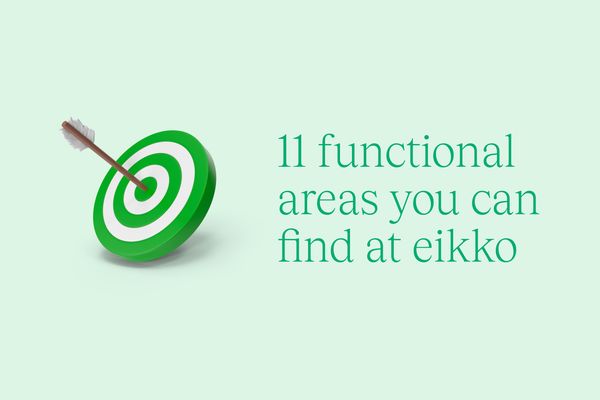 Are you looking for a new job opportunity that matches your skills and ambitions? Then, eikko (your job matchmaker) is here for you. On our previous article, we talked about eikko's core focus on opportunities that center around three pillars: sustainability, technology and impact. We also mentioned the variety of industries and companies we work with that range from GreenTech to more conventional sectors like retail or healthcare. However, we understand that as a candidate, what matters most to you is the range of job areas we cover. Let's get straight to that…
Currently, eikko can match you with job opportunities in the following functional areas:
1. People, HR and Recruitment
Dive into the world of talent acquisition and HR strategy, helping organisations build exceptional teams and creating a positive workplace. With eikko, you can select which industries and stages of company you would like to work for and so on.
2. R&D (Research and Development) 🔬
Lead the way in technological advancements and groundbreaking research that shape the future, while playing a key role in introducing new products and services to the market or improving existing ones.
Through eikko, you can get matches on different positions that go from Research Scientist to Biomedical Researcher or R&D Engineer, depending on the industry and organisation.
Companies in different sectors and industries conduct R&D although pharmaceuticals and technology are typically the ones that invest most.
3. Software Development
Calling all Front-End, Back-End, Full-Stack, Mobile App Developers! Turn ideas and requirements into functional and exciting software products.
Whether your passion lies in the startup ecosystem, the rapid growth of scaleups, or thriving industries like Fintech, Healthtech, gaming, aviation, and space, eikko gives you the chance to filter in and out your preferences. We will then use this to match you against more relevant jobs.
Your role as a software developer extends far beyond coding…
4. Data and AI 🧑🏻‍💻
With the world becoming increasingly intelligent, Data and AI talent are on demand.
If you're into these areas, you could be working on advanced technologies that drive innovation and transformation: green and circular economy, machinery, healthcare and tourism are some of the sectors where European companies have strong positions.
Here are a few roles you can get matches with on our platform: Data Scientist, Machine Learning Engineer, Data Engineer, and Business Intelligence Analyst.
5. Engineering
Engineers are the architects of change, designing and building sustainable solutions that bridge the gap between technology and impact.
From renewable energy systems to eco-friendly infrastructure, engineering plays a crucial role in shaping a better future.
Join us at eikko, where we have a variety of roles where your skills will be valued.
6. Marketing 💡
Dear fellow Marketeers! At eikko, we want to find you the right job, aligned with your goals, aspirations and personality. Whether your expertise lies on digital marketing, strategy development, or brand management, we have a fit for you…
What's even better? You're in control. Choose your preferred location - in-office, remote, or a hybrid setup - and set your salary expectations just the way you like it.
And then what? Have a little patience and wait until the perfect match comes your way.
7. Sales and Business Development
If you're a person who enjoys negotiating, cultivating relationships and writing business proposals for both tech and non-tech companies, eikko has a role for you as well.
Through our platform, you can select your preferred industries and leverage your skills to your advantage. For example, if you have extensive experience working in universities and research centers, you can apply your knowledge in startups or research-focused departments.
8. Design 🎨
Calling all graphic and UX/UI designers! Contribute your creative talents to the development of products, user experiences, and visual identities in industries and products that you feel aligned with.
Whether you're an accomplished graphic designer or an experienced UX/UI specialist, your skills are in high demand.
9. Project Management
Lead transformative projects, whether in the realm of sustainability in Europe or large-scale corporate initiatives.
At eikko, we provide a platform where your skills can thrive, where you can be at the forefront of groundbreaking projects that shape industries and transform lives.
10. Product Management
Shape the direction of cutting-edge products and services, contributing your insights and leadership to deliver solutions that make a difference.
Set up your profile today and see job matches come through.
11. Operations
Most large companies have an Operations department and we have a lot of roles available. Within this area, you'll be optimising processes and driving operational excellence, making a significant impact on organisational efficiency.
For example, the typical duties of an operations coordinator include managing the daily operations of a company and performing administrative tasks. An operations analyst reviews a company's procedures, policies and organisational processes to locate any areas of improvement.
---
Looking for jobs that could lead to a career fulfilment? eikko can help you find them. Create a free profile today. We will send you custom job matches, tips and much more.
Find your fit
Your perfect job is just a click away
Sign Up Now