The war for talent: recruiters vs job seekers
Priorities have shifted. People are now more likely to prioritise their health and wellbeing over work. There is a gigantic dance going on. Companies want people back in the office, and employees the right balance. How can we move forward so everybody wins?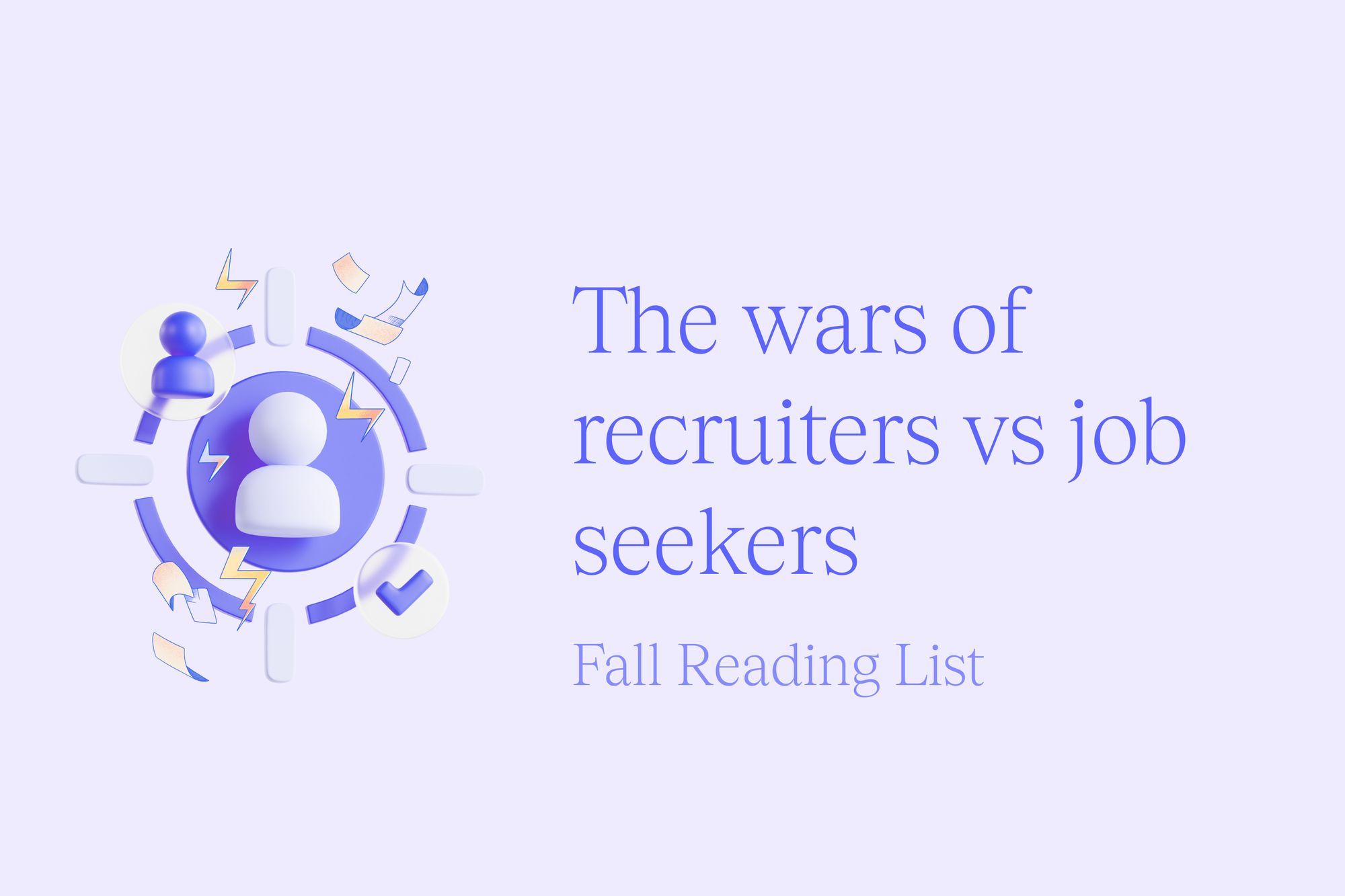 The world of recruitment has changed a lot in recent years, with the COVID-19 pandemic accelerating new work habits such as remote work and a greater focus on well-being and flexibility. Many companies have embraced these changes, with some even abandoning offices altogether. However, some companies have returned to the on-site model, while others have opted for a hybrid model that requires employees to come to the office 2-3 times a week. Despite these changes, employees are resisting the return to traditional work arrangements. They want the flexibility to pick up their children from school mid-afternoon, exercise in the morning, or go shopping during the day without having to deal with rush hour traffic.
This shift is creating a number of challenges for both recruiters and job seekers. Let's look at the numbers:
Job seekers
The majority of talent aged 18-42 are actively looking for a new job and salary transparency.
51% of currently employed workers are looking for a new job
Gen Z, the youngest generation in the workforce, is especially demanding of flexibility, mobility, and entrepreneurial freedom.
58% of Gen Z workers are considering changing jobs in the next year, and 70% are considering earning additional income outside of their current employer, according to a recent survey.
"Quiet Quitting" employees know what they would change about their workplace: 41% engagement or culture; 28% pay and benefits; 16% wellbeing.
91% of employees in Portugal want salary transparency.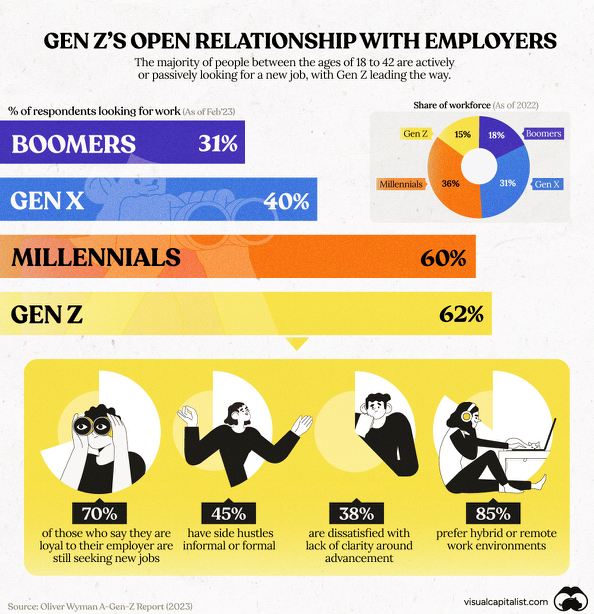 Recruiters
Conversely, recruiters are facing a number of challenges in this competitive job market, including:
There are qualified talent but we cannot find the right candidates, making it difficult for recruiters to fill open positions.
Reduced hours and remote work opportunities: This has increased the competition for vacancies, as workers have more options to choose from.
2/3 of hiring managers say young workers quitting are amongst top reasons they can't fill their skill gaps.
Candidates are more likely to change jobs for a better position, even if it means moving to a new location.
Too many unsuitable candidates applying to jobs and ads: online ads are no longer as effective as they once were at attracting qualified candidates.
Rebuilding social work relationships looks different in a hybrid world.
Employees' "worth it" equation has changed, and there's no going back. (Microsoft Work Trend Index)
Time for a change
To meet the new expectations of employees, companies will need to embrace a mindset shift that considers the experiences of the past two years. Employees' "worth it" equation has changed, and there's no going back. The best leaders will create a culture that embraces flexibility and prioritises employee well-being. This is a competitive advantage that will build thriving organisations and drive long-term growth.
Here are some additional tips for recruiters and job seekers in this challenging market:
Recruiters: streamline your hiring process with eikko
Reduce time to hire by 80% and acquire right fit candidates: eikko takes out the holdup which is focused on sourcing and screening.
Be transparent about the job role and company culture: with eikko, your job descriptions will only be matched with candidates that fit your goals.
Offer competitive salaries and benefits.
Be flexible with work arrangements: our platform lets you filter out work arrangements and only matches you with like-minded professionals
Increase efficiency and reduce bias: our matches are based on skills taxonomy rather than keywords.
Job Seekers: find your perfect job with eikko
Do your research about which type of company, industry and functional role you want to pursue. Then fill this information on your eikko profile.
Be clear about your expectations and needs when enrolling with eikko.
Be prepared to negotiate salary and benefits, but before set up your salary goals with eikko.
Be patient, sit down and wait for the matches to come in.
The job market is constantly changing, but by understanding the current challenges and trends, recruiters and job seekers can both be more successful.
---
Companies: looking for candidates that are a right fit to your jobs. Create a free profile today.
Job seekers: looking for jobs that could lead to a career fulfilment? eikko can help you find them. Create a free profile today.
Find your right fit
More than 10,000 candidates
Sign Up Now